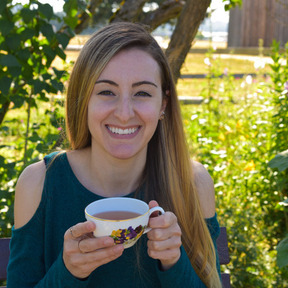 I've been there.
Hormonal and digestive upset. It wasn't pretty. Doubled over in pain, not being able to keep food in my stomach for more than half an hour. Painful acne that made me avoid eye contact. Many frustrating nights spent tossing and turning. I gained weight, I felt sluggish. Dragging my heavy, weary body around was exhausting. I struggled with these symptoms for years, saw several doctors, was prescribed various medications (namely laxatives and birth control), and found little relief. Nothing really worked long-term.
Then I found my own health advocate and went back to school.
I began working with a health coach who showed me how to ease my symptoms through a healthier, more nutritious diet. She recommended supplements, helped me recognize and remove trigger foods, and supported me in changing my lifestyle and poor eating habits. Through this I realized I wanted to support people in achieving their health goals too. With a degree in psychology, I went on to obtain my Master's in the Science of Nutrition from the National University of Natural Medicine in Portland, Oregon. My goal is to empower others through nutrition and holistic living!
No followed people