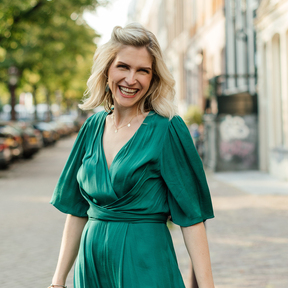 A breathwork coach, yoga teacher, author, loving wife and mother of two, Johanna Lehmann founded Tiger & Turtle, a brand on a mission to take you on a journey within to make a difference in your day-to-day life and the world!
Johanna lives in breath-taking Amsterdam with her husband and their two children. She is an entrepreneur, breath coach, yoga teacher and author and founder of United Letters, a mindful children's book company.
After working in Silicon Valley for many years, Johanna wanted to start a venture where she can help you use your mental power to travel to places you have never been to before, but also tap into old memories and hidden emotions by using your inner strength to step into the person you want to become.
Did you know? Your breath allows you to do just that. You can change your breath to guide you into your desired state and your mind will follow.
Amazed by the power of breathwork, Johanna got certified as a Breathwork coach and started to build her own program combining scientifically proven breathwork with music and guided visual imagery and her desire to build a company passionate about developing sustainable products by keeping our planet happy too!
Everything Johanna knows about breathwork, she learned by doing breath training from yoga guru and world record holder Wim Hof, internationally known as "Iceman", SOMA founder Niraj Naik as well as Breath Master Kasper van der Meulen and as part of her extensive Yoga Teacher Training (300 hrs Hatha YTT).
Her passion for travel, wellness, and mindfulness has led her on a personal journey to becoming a breathwork coach, with audiences spanning the US, Europe and Asia. As a qualified Yoga teacher, she combined yoga and breathwork with her experience in storytelling and visualization so that you can benefit from breathing techniques on a deeper level.
No followed people