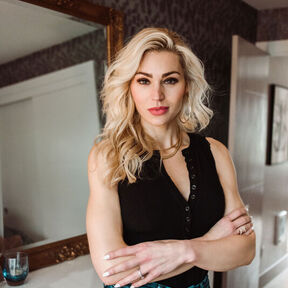 I'm Rachel! I am a Certified Nutrition, Wellness and Mindset Coach. I have a background in Aesthetics, Psychology, and I'm certified as a NLP Practitioner (Neuro-linguistic Programming). I am also a wife, mother and Breast Implant Illness Survivor. My passion is providing women with transformative experiences through meaningful nutrition, psychology, spirituality, and practicing the language of the mind (NLP). In short, I support and encourage women to achieve the best version of themselves no matter what obstacles they may encounter.
I have been where you are
My own personal transformation journey wasn't easy, and it often felt extremely lonely. For the majority of my life, I battled with weight (reaching almost 200lbs before the age of 15), skin issues, and low self-esteem. I never identified with being "beautiful"… but what I did identify with was feeling unworthy and uncomfortable in my own skin. Those challenges, compounded by emotional and sexual abuse, led to a life of feeling inadequate and overcome by limiting beliefs. When I decided to get Breast Implants I thought they would bring me the self-esteem I had been looking for my whole life.
I decided to do the work
After years of struggling, I succeeded in transforming my physical body, but I never addressed the emotional work that was necessary for me to feel inner peace. When I got pregnant (surprise!) all of my body image issues resurfaced. Immediately post pregnancy, I became very ill with Breast Implant Illness. In the midst of this terrible illness, I also had a breast cancer scare and had to undergo a Lumpectomy. One thing became very clear to me - it was time for me to address my own emotional pain and trauma if I truly wanted to get well and heal my WHOLE BODY. So I made the decision that I was going to do whatever it took to fight for my self-worth, heal my emotional and spiritual pain, set boundaries, and ultimately love myself- my scars, my stretch marks and all my imperfections!
Through my own experience with Breast Implant Illness and it nearly taking my life, I have invested years into refining my education and methodologies so that I might help you conquer your limiting beliefs, heal your WHOLE body, and create sustainable changes to improve self-confidence, and ultimately reclaim your life.
​If you are ready to transform, I am here for it.
No followed people