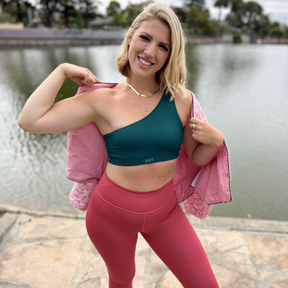 I was born in France. From a young age, I was exposed to comments about weight and food. My life took a drastic turn when I had to move to the Middle East at 12 yo. I found myself far away from my friends, and close family, the stress and loneliness of my new environment took a toll on me and I turned to food for comfort, over the next few years, gained a significant amount of weight.
Fast forward I found myself at the mall one day, trying on clothes in the fitting room. I got a breakdown, feeling ashamed and hating my body.
In that moment, I realized that I needed help and decided to change.
I implemented completely new habits with the help of a health coach and regular exercise and healthy eating, which led me to quit my 9-5 and help others in their pursuit to find sustainable healthy habits, body confidence and self love. I got my NASM personal training certification, my Sport Nutrition and holistic nutrition certifications and because I realized that my issues with my body image went deeper than just the number on the scale, I decided to to pursue my holistic wellness and girl gone strong certification, after helping thousands of women heal their relationship with food and exercise I was fortunate be selected among the top 10 personal trainer in California by the LA weekly :) If you'd like to know more about my holistic approach, feel free to message me, and check out my instagram, at @thisisoliviacimet. You're not alone in this.
Peace.
No followed people