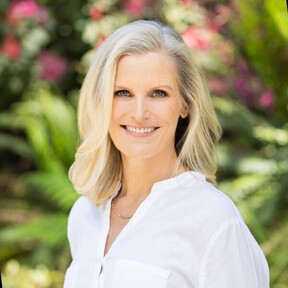 HI, I'M LAURA!
As a woman, busy mom of four, and entrepreneur, I've experienced the effects of letting my own health sit on the backburner
Like you, I've struggled with my own health and wellness challenges, as well as finding ways to support the health of my family. I felt overwhelmed by all of the information out there, with conflicting information on the internet and in the latest books. Food labels were misleading and hard to understand, and as I attempted to figure out food intolerances, I was overcome with all the changes I supposedly needed to make to figure this out on my own.
There was not enough time in the day. I was tired, confused, overwhelmed, and feeling lost in a sea of information.
I pursued health with a vigor and focused on small lifestyle changes I knew I would love. I started to dance more, go to yoga classes, and found time to hike and be in nature. I spent more time with my kids, who are active athletes, and found nourishment in my community and with healthy foods. Every single one of these changes had vast positive impacts on my wellness and helped me with my health.
Through my experience, a passion grew within me. I became a Board-Certified Health and Wellness Coach, a Diabetes Paraprofessional, and completed a Master's of Science in Integrative Health and Wellness.
I experienced firsthand the benefits of a strengths-based approach to change, and I knew I had to help others in their own wellness journey.
You are the expert in your health journey
I'M JUST HERE TO GUIDE YOU TOWARDS THE OPTIMAL WELLNESS YOU WERE ALWAYS MEANT TO HAVE!
No followed people