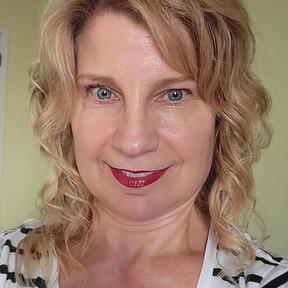 have a deep rooted passion for health and wellness. My specialty is skincare and stress reduction. My philosophy on skincare is that if you are taking care of your skin you are taking care of your entire body. When providing skincare treatments and consultations I assess products used, frequency of professional treatments, types of treatments, general nutrition, exercise regimens, sleep hygiene, and stress reduction techniques used by the individual. I am an expert at providing guidance on DIY home facials that will promote a vibrant complexion and extend the results of professional skincare treatments.
•. RN with 20+ years of experience providing a plethora of transferrable skills.
•. BSN from Purdue University.
• Licensed Esthetician for 10+ years.
•. Active Unrestricted Esthetician and RN License in the state of Texas.
•. Studied Esthetics at The Aveda Institute and G Skin and Beauty Institute in Chicago
providing a broader perspective on skincare.
•. 8 years of experience working in 5-star luxury hotels in downtown Chicago and providing
in home skincare treatments to private clients.
•. Competent in providing and advising on skincare for all ages, genders and Fitzpatrick Types.
•. PCA certified professional with extensive training and experience on the science and
application of chemical peels.
• Certified Hydrafacial Technician.
•. Vodder certification in neck and face treatments for lymphatic drainage.
•. Familiar with many reputable skincare lines including Beauty Counter, PCA, IS Clinical
and Sothy's.
•. Various certifications in aromatherapy from the Pacific Institute of Aromatherapy and
American Colleges of Healthcare Sciences
•. Featured in Refinery 29 in two articles providing expert advise on skincare.
•. Previously Licensed Massage Therapist with 17+ years of experience.
•. Yoga instructor with certification from the Kriya Temple in Chicago, Illinois.
•. Guest Fitness Instructor providing yoga and water fitness classes at The Pura Vida
Resort in Costa Rica
•. Provided yoga classes to improve back health and prevent injuries at Northwestern
Memorial Hospital in Chicago.
•. Six month class on Motivational Coaching Techniques from The American Council of
Exercise. This was a tremendous added skill in facilitating individuals develop their
emotional intelligence and improve their own healthcare engagement.
No followed people