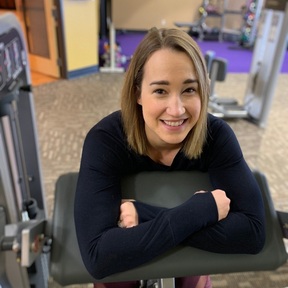 As your health coach, we won't just look at what you eat or what your workouts are like – if it were that simple you probably wouldn't be here! Together, we'll bring clarity to your fitness and wellness goals, problem-solve what's not working, crush your negative ego and self-limiting beliefs, build up your mental strength, and instill a new level of self-reliance and confidence that'll turn your short-term health goals into lifelong success!
Background
After getting my bachelor's degree in Exercise Science I worked in the health and fitness field for over 10 years. During that time, I also worked in functional medicine for a short time and realized there was more I wanted to be doing for the training clients I worked with. That's when I discovered health coaching and knew it was the perfect fit for me. It combines my love for helping others with my passion for health on a holistic level. With this whole-person approach, I'm able to support you with all elements of physical health, mental health and emotional health combined; discovering a balanced healthy lifestyle that meets you where you are, while modifying as needed with the ebbs and flow of life.
This is about your journey. I'm just here to help guide.
My Coaching Core Values
Listening and respecting the beliefs and opinions you hold
Always considering your current season of life and the impacts that can have
Never being pushy, but challenging you when necessary
Being a supporter, encourager, and educator
Committed to helping you create the most balanced life possible
Honoring our relationship through trust, honesty, and care
Dedicated to help you thrive in your health
Fun Facts About Me
Mom to two beautiful, fun, and joyful little kids.
Married to a hard-working, engineering, and resilient man.
Iced coffee and good music are some absolute daily staples.
Continuing to learn and grow are essential for me to flourish as a person.
Partnering with God in life, all day, every day.
No followed people